I like him. he's human. i like that.
*sigh*
kajo
Robert makes me smile. It's unfortunate that nothing will or could become of us, other than a great and closer friendship (with some added perks ;), shh). I was having trouble concentrating on homework and he offered to come over and keep me company. It was more of a distraction than help, but I enjoyed it. I asked him to tell me about his sister and about things they did together. Well, I asked him to tell me what he used to do to her when they were little. He explained that it was more of "things we did together". They seem like they were good kids. I told him of how my brothers would tie me up outside and leave me there. This made me think. I should write stories of little things in my childhood.
Current Location:

home

I feel:

lemon with no face

Current Music:

Shaggy - Bombastic

Love/Relationships/ Attatchments in my practice. I often label my small
note books with the topics that I am studying to make for easier
reference. This comes from "Ramblings of a Lover". Feedback is
welcome. It helps me ask more questions and even out my thoughts.
---

My practice has become extremely useful when it comes to my emotions.
I find myself getting frustrated with Mr. Perfect because he's not so
perfect. I used to start the 'calm-down' process by reminding myself
of my temper when I was with Ryan. Once I remember that, then I would
make myself take three deep breaths, and clear my head. Now, I don't
have to do all those steps. My practice has made it sooooo much
easier. I notice my unwanted feelings approaching and I immediately
dismiss them. Life is too short, right?

Yesterday was a very busy work day. I opened the grooming salon, then
had to go back to work in the evening for a store meeting. Mr. Perfect
had canceled our date from the previous night and insisted on hanging
out in between my work times. I felt pressured and upset at first. I
let it go. I reminded myself of a passage from one of Thay's
writings: "We really have to understand the person we want to love.
If our love is only a will to possess, it is not love. If we only
think of ourselves, if we know only our own needs and ignore the needs
of the other person, we cannot love." I was only thinking of myself.

I really want to understand Mr. Perfect. What I thought would be a
complete disaster of a date, turned out to be one of the most romantic
evenings of my life. He made dinner, we listened to Siriusly Sinatra
(it's a station on XM radio that merged with a sirius station), then
slow danced to my favorite Frank songs. I don't mean slow dancing like
kids of my generation; I mean slow dancing to schmaltzy songs like my
parents or your parents did. It was a realization that my generation
does not know what romance or love is.

I breathed him in. Mr. Perfect has been through a lot. TNH says,
The essence of love and compassion is understanding, the ability to
recognize the physical, material, and psychological suffering of
others, to put ourselves "inside the skin" of the other. We "go
inside" their body, feelings, and mental formations, and witness for
ourselves their suffering. Shallow observation as an outsider is not
enough to see their suffering. We must become one with the subject of
our observation. When we are in contact with another's suffering, a
feeling of compassion is born in us." For a moment, I felt like I
was inside his skin.

Zen is like slow dancing; at least it should be. We have to be
stillness in motion, silent, compassionate. Compassion means "to
suffer with". If we aren't all of these, how do we understand their
suffering? If we can't understand their suffering, how can we really
love this person? For that matter, if we can't understand suffering at
all, how can we love anything or anybody? ...and isn't our practice's
goal to end suffering?
---


Thank you for reading my ramblings. I just wanted to share with you
all what I've been working on and thinking about.

Gassho,
Kajo
The following are thoughts from my notes. I have been studying
Current Location:

Casa de Weeks

I feel:

calm looking lemon face

Current Music:

John Mayer - Dreaming with a broken heart

ha.
Anyways, I'm home at the moment listening to Hopes and Fears on repeat. It's my favorite cd, however, it breaks my heart. I get so sad AND hopeful at the same time. Mostly, though, I just get sad. It makes me wish I had someone to love and someone who loved me back. I just want to be loved.

Diego and I are moving out this weekend/early next week. I have yet to pack, really. I hate moving. I wish I could just wake up in my new room with all my stuff, magically. Even if it was all unorganized, I would be content. I wouldn't have to concern myself with the packing, loading, unloading, unpacking business that takes up so many hours. On the up side, we are moving in with very nice people who have a very thick headed but sweet dog named Pax. Pax and Diego get along just fine.

I'm still waiting patiently for that someone to hold hands with. I've yet to actually hold hands with this particular person. ...well, our fingers can be found in a weaved fashion every once in a while. :)
*sigh*

I am currently dying my hair. I don't have the money to get a tattoo at this moment...well, I do, but I am unsure of what I want, exactly. If you didn't know, they are permanent. This is why one has to really be sure of a design that is going to be inked into her flesh. This is why I'm dying hair.

Westrum: have you considered hair dye?

kisses,
kajo
I love Keane. I just thought I'd throw that out there first. I have finally found someone who really loves Keane as much as I do and that one is Kai. We have been close this past month. There have been countless days when I fall asleep next to Kai while listening to the Keane playlist. ...well, I fall asleep until his bf, Ralph, gets there and is like "why you all up on my man".


I found out this morning that she is suspected to have killed our poodle, Mudge. I am extremely upset about this. I loved Mudge and I will miss him greatly. After a fully body exam, performed by Bethany who is a Nurse, Mudge was found with 9 bite wounds to his neck. Never in my life have I wanted to hurt a dog so bad until this morning when I saw Coconuts face staring up at me. I did nothing. Just walked away from her. I can't look at her right now, so I left.

Bethany is planning to return Coconut to the Boxer Rescue soon.
Coconut is a boxer. A white, deaf boxer. She has been at our home for about a week for a trial adoption. We wanted to adopt her but first we had to see if she would get along with our other three dogs (Minnie, Mudge, and Diego). Needless to say, it's been a rough week. If you know anything about dog training, you know that it's extremely difficult to train a deaf dog who is set in her ways. Coconut, despite her jumping and constant barking, seemed sweet. However, I can no longer look at her.
Current Location:

Casa de Valencia

I feel:

Soooooo upset

Current Music:

My thoughts running through my head

Right
Right back to school
Check it
Look back I sift through all the cliques
Roaming the halls all year, making me sick
While everyones out tryin to make the cut
What?
And when you think you know me right I switch it up
Behind the walls smokin cigarettes and sippin vodka
Hop a fence and catch a cab, aint no one can stop us
Give me a break about some other mess
What were you?
Act like its everything you got
Push back the square
Now that you need her but you dont
So there you go
Cause back in school
We are the leaders of it all
Stop that, quit! - all that, quit!
Who ruined it? you did! now grab a notebook and a pen
Start taking notes, Im being everyone whos on the top
You think were on the same page - but, oh were not!
Ill be the man, watch your backpacks, pens and pencils
Just like he now flippin it, why you just keep it simple? you just cant go
Wrong rocking the clothes
Coppin the stance
cause really is everything that you got!
Push back the square
Now that you need her but you dont
So there you go!
Cause back in school
We are the leaders of it all
So
Transpose
Or stop your lies
Its what you do
Transpose
Or stop your lies
So run
So why dont you run, so why dont you run
So why dont you run back to school
So why dont you run, so why dont you run
All you are - now Im on the next page
All you are - its time to close the book up
All you are - Im on the next page
All you are - close the book up now


So run
Current Location:

Home sweet home

I feel:

Lemon with a smiley face

Current Music:

Deftones in the morning :)

<3
...
Sometimes I wonder why I broke up with him. I do miss him.
Bobby is an amazing boy.

And turned it against me like a knife
You broke my last heart string
But you opened up my eyes

That was not love in your eyes
It was only a reflection of my lonely mind searching
For what's been missing in my life

It's gonna be all right, no matter what they say
It's gonna be a good day, just wait and see
It's gonna be alright, cause I'm alright with me
It's gonna be, it's gonna be, it's gotta be
You forged my love just like a weapon
Current Location:

Home sweet home

I feel:

a bit chilly

Current Music:

Jewel - Goodbye Alice in Wonderland


Daily Affirmation

August 22, 2008

I open my spiritual eyes to behold the exquisite nature of Spirit in every person, place and thing. I behold the beauty of God right where I am, wherever I am. I relax and enjoy the fullness of my life.
--

see, in zen, that's called being enlightened. I'm glad I saw this one because I always say that when I reach this point, I know it's all God - the breathtaking sunrise, the light breeze, the single flower that bloomed out of season...- I just don't call it God. Why? in Zen, once you give something a name, it losing meaning. AS soon as I call it God, it's no longer God. It's an attachment. In order to enjoy it, without attaching myself to it, I just breathe it in! Right before I start to really love it and start to wonder why every day isn't like that, I let it go. I'm taught that this is the way to experience "enlightenment" or God (as I call it). Sometimes it's easier for me to let go by telling myself that I cannot be greedy and I have to let everyone else enjoy life as I did in that moment. heh. They deserve to.
I love this daily affirmation! :D
Current mood: awake

*edit* It's actually set to private so you can't read it if you're not friends with her. I will later insert snippits of her blog if she grants me permission to do so.

My Response
Now that I think about it, I don't know if I can really say that I have role models in my family. Sure my parents, whom I love dearly, have given me advice or rather told me what I need to do. I'm not trying to, in any way, bash them for not being amazing role models and giving me advice that would help me through my lifes turmoils. I am just realizing who my role models are. They include, but are not limited to, (and I'm sure most of you won't know who I'm talking about) Alt, Zimmerman, Angerstein(C), Wolfie, Wilson, Jenny, and surprise surprise - Ryan. These people have talked to me about things that my parents/family -extended or immediate- have never taught me, like financial responsibilities, self-courage, self-respect, confidence, happiness, discipline, and love. The basic rules of surviving, as Julie put it. Now, I've taken advice from many trusted friends and continue to carry that with me. This is not about who really is my best friend and who isn't. It's about role models. I have been fortunate enough to find people in my life that actually care. Wow, right? People that have NOT known me all my life and still offer their assistance, money, cars, houses, and love. One thing I have to give my family credit for is Back-up! Even if they don't want to talk to me about what's really going on in my life, they've always got my back. ALWAYS. Even if it means they'd have to struggle for me to live comfortably (and I love you for it). ...but strangers? Wow, it's amazing to think of these people who've only been in my life TOPS five-six years, can be such reliable sources. I've also learned that I cannot trust too many people because I'd be let down. Maybe this is where Julie and I start to differ. Yes, through this roller-coaster of life that I've lived and through my mistakes and broken relationships, I have learned that I depend on myself, I trust myself. These role models won't always be there for me. I've realized that too, but I have also learned that I actually have people that I can depend on as well. Not many, but that's okay. Julie, maybe it's our culture, our countries, our particular families, who knows... I'm glad we know we can depend on ourselves! Not a lot of people can say that much.

Opposite of how your heart works, I let love in too easily. I also think I have only really loved one person, and I'm sorry for those exes that may or may not be reading this - please don't be hurt. Unfortunately, he never proved to me that he genuinely loved me. It seems that all too often I fall for the boys who can look me in the eyes and make me feel attractive over the ones who really know themselves and have control of their lives. I'm not saying that if you're down, you're undeserving. Julie and I just happen to love differently and, remember, this is my response. I just wonder if it's foolish. I give, I give, I give, and yes, I can be difficult, but that doesn't mean I don't deserve someone who will truly love me. I want a man who has the same qualities as I - pride in himself, self-respect, handle his own business, manage his affairs, be on top with day to day situations, motivation, high self-esteem, drive, and charisma and can love me and my dog. I do. But I also understand things happen, life happens, and we get knocked off our wagon for a while. So then my list of expectations gets shorter. Is that where I falter? Then, he needs to have self-pride/respect, motivation, drive, and a willingness to do whatever it takes to get back on top, to be able to love me through all his stife, and to be able to love and respect my dog. Is that so bad? Apparently it is. It's not enough for me to be strong and loving. No, I have to be perfect all the time and so does my dog. I can't lose a job, have my car break down, have an imperfect body. Is it not enough to have a girl who's happy with who she is? No, it's too much to ask, even though I've asked for nothing short of the basic fundamentals in life... I've become closed to boys for this reason.
One day, I hope.

Maybe the consequences of my trusting and loving too fast has made me a little closed, a little unapproachable, and a little too aware of peoples motives. Maybe it's caused me to not trust. I also don't see it as a bad thing because if someone really wants to get in my life, they can. I just need to stay closed a little longer, and they need to try harder. I think it's fair.
So, what I am really saying (or we -Julie and I - she's the originator of the topic) is that I am not hard to get to know. However, I don't need to waste my time on people who aren't going to give me what I need, treat me how I should be treated, or not take pride in themselves and who they are, to rise and be phenomenal. Once I let you in, I'll be the greatest thing that ever happened to you. Count on it. Unlike others, I don't fail the people I love.
Just don't let me down.
My good homie Julie Pie recently wrote on Life, Love, and Consequences. I read it and have been wanting to write about the same issues in my life. Of course, we are different people, in different countries, with different expectations of others and ourselves. We also have many things in common including our love of Pit Bulls and all Bully Breeds. Before I begin my response to her blog, I'll post the link to hers so you can read it if you want to: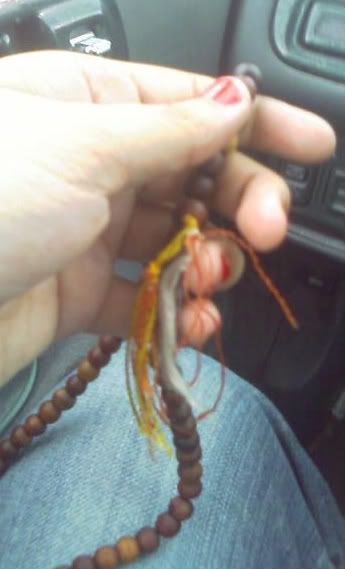 KAN JI ZAI BO SATSU GYO- JIN HAN-NYA HA RA MI TA JI
SHO- KEN GO ON KAI KU- DO IS-SAI KU YAKU.
SHA RI SHI SHIKI FU I KU- KU- FU I SHIKI
SHIKI SOKU ZE KU- KU- SOKU ZE SHIKI
JU SO- GYO- SHIKI YAKU BU NYO ZE
SHA RI SHI ZE SHO HO- KU- SO- FU SHO- FU METSU
FU KU FU JO- FU ZO- FU GEN
ZE KO KU- CHU- MU SHIKI MU JU SO- GYO- SHIKI
MU GEN-NI BI ZES-SHIN I
MU SHIKI SHO- KO- MI SOKU HO-
MU GEN KAI NAI SHI MU I SHIKI KAI
MU MU MYO- YAKU MU MU MYO- JIN
NAI SHI MU RO- SHI YAKU MU RO- SHI JIN
MU KU SHU METSU DO-I
MU CHI YAKU MU TOKU I MU SHO TOK'KO
BO DAI SAT-TA E HAN-NYA HA RA MI TA KO
SHIM-MU KEI GE MU KEI GE KO MU U KU FU
ON RI IS-SAI TEN DO- MU SO- KU GYO- NE HAN
SAN ZE SHO BUTSU E HAN-NYA HA RA MI TA KO
TOKU A NOKU TA RA SAM-MYAKU SAM-BO DAI
KO CHI HAN-NYA HA RA MI TA
ZE DAI JIN SHU ZE DAI MYO- SHU
ZE MU JO- SHU ZE MU TO- TO- SHU
NO- JO IS-SAI KU SHIN JITSU FU KO
KO SETSU HAN-MYA HA RA MI TA SHU
SOKU SETSU SHU WATSU
GYA TEI GYA TEI HA RA GYA TEI HARA SO- GYA TEI
BO DHI SOWA KA HAN-NYA SHIN GYO
Current Location:

Home

I feel:

chipper

Current Music:

Rain